Share your stories of Westgate Street
We would love to hear from you if you have stories, old photographs or documents relating to buildings, businesses, people or events on Westgate Street.
Attend one of our regular drop-in sessions at 21 Westgate Street or get in touch to arrange a chat with the Westgate Stories team.
Email: westgatestories@gmail.com
Facebook: Cathedral Quarter Gloucester
Working with our partners at Gloucester Cathedral, Gloucestershire Archives, Gloucester Civic Trust and Museum of Gloucester, we will share our findings in monthly exhibitions, blogs, films and art detailing your unique stories of Westgate Street. Our digital collection will be donated to Gloucestershire Archives when the project ends.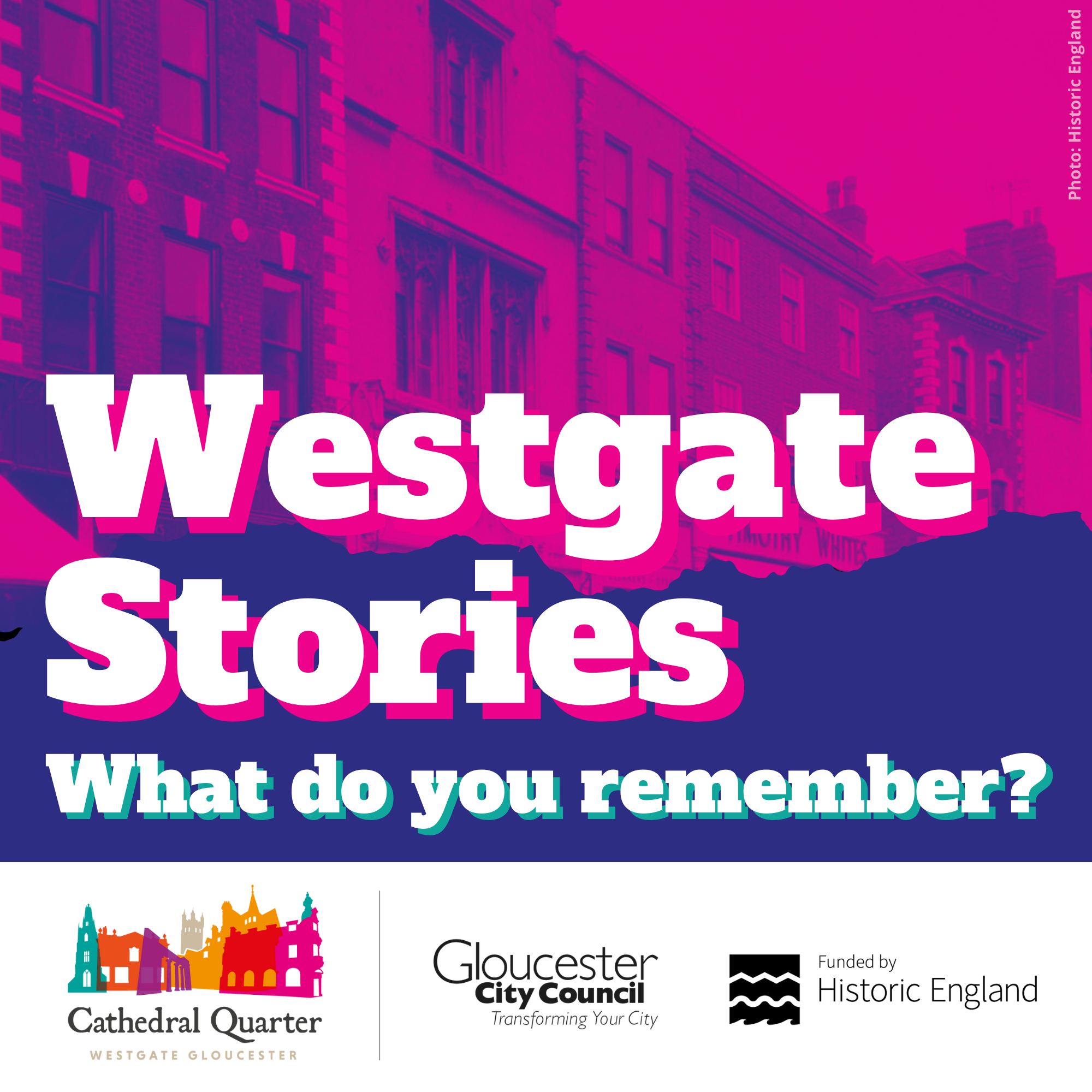 Here are some memories of Westgate that have already been shared with us:
Kate Biggs
A childhood memory of Westgate
"Growing up in the late 60s and early 70s Saturday mornings often meant a trip to Gloucester, the drive in meant sitting in a Hillman Minx on the old Westgate bridge in traffic, waiting in the yellow smog of the lorry park with the smell of fumes of that and the glue factory… the smell was sort of cheesy biscuits! Dad always had to visit Winfield's seeds in Westgate, where if we were lucky we would sneak down Maverdine Lane to look up at the side of 26 Westgate."
"However our biggest treat was to go to Meek's Shoes once in a while to get new shoes for school. Always Clarks occasionally Startrite. We would go upstairs and sit and wait to have our feet measured and while we were waiting, gaze up at the ancient plaster ceiling wondering who had made this and how old was it, what secrets did it hold and what stories could the building tell. The green Clarks boxes would come out and we would try on our shoes… if we were lucky we would get something a bit fashionable! I distinctly remember my sister and I each having a pair of purple and pink brogues… very psychedelic, leather and suede. I am certain that experiences like these have fostered my interest in historic buildings and archaeology!"
Alan Myatt
Gloucester's Town Crier, Toastmaster and Master of Ceremonies remembers his days working on the refurbishment of the cellar at the Dick Whittington Inn.
"I spent a very happy 3 or 4 months working on this job, especially in the cellar below The Dick Whittington."
Thanks to our partners, Gloucester Civic Trust, for producing this video.
You may also be interested in…
Street Scene
Our project includes:
Making Open Spaces More Attractive
Using Open Spaces For Activities
Using Open Spaces For Events
Events & Activities
Our events programme includes:
Arts & Cultural Events
Heritage Awareness Events
Workshops for Professionals
You may also be interested in…
Street Scene
Our project includes:
Making Open Spaces More Attractive
Using Open Spaces For Activities
Using Open Spaces For Events
Events & Activities
Our events programme includes:
Arts & Cultural Events
Heritage Awareness Events
Workshops for Professionals
For More Information
Get In Touch With The Cathedral Quarter Gloucester Team